Automated Evidence Collection Setup Overview
After acquiring Automated Evidence Collection (AEC), a member of your LogicGate Account Team must enable the feature flag on the Admin page.

From there, a Builder must enable Automated Evidence Collection (AEC) in the Workflow Settings and add an AEC Subsection within the relevant Workflow Step.

An end user can then create or configure AEC on that section of a Record.
Enabled AEC automations will do the following:

Create a Record
Link the newly created Record to the Record where the automation is configured
Add a file (

from a selected source

) to an Attachment Field on that Record
Enabling Automated Evidence Collection (AEC)
Please ensure that the Automated Evidence Collection feature flag is enabled on the Admin page of Risk Cloud. This can only be done by a member of your LogicGate Account Team.

Enabling the Automated Evidence Collection feature flag will change the Workflow settings to include an Advanced tab that contains a checkbox to Enable AEC on that Workflow.
Please Note: Workflow SLA settings have now been moved into the new Advanced tab.
Once Automated Evidence Collection (AEC) has been enabled for a Workflow, the Add Evidence Automation option will become available within the Steps of that Workflow.

Clicking the Add Evidence Automation button will add the new Subsection in that Workflow Steps. This new Subsection will enable users to create AEC automations from the Records in that Step.

The section will allow builders to select default record creation settings for end users. Builders can choose the following:
The Workflow for the new/linked Record to be created
The Step the Record will be created in
The Field where the evidence attachment will be added
Builders can select whether to allow their end users to change these default settings.
Clicking the Edit Default Options button (above) will open the following modal to configure default record creation settings: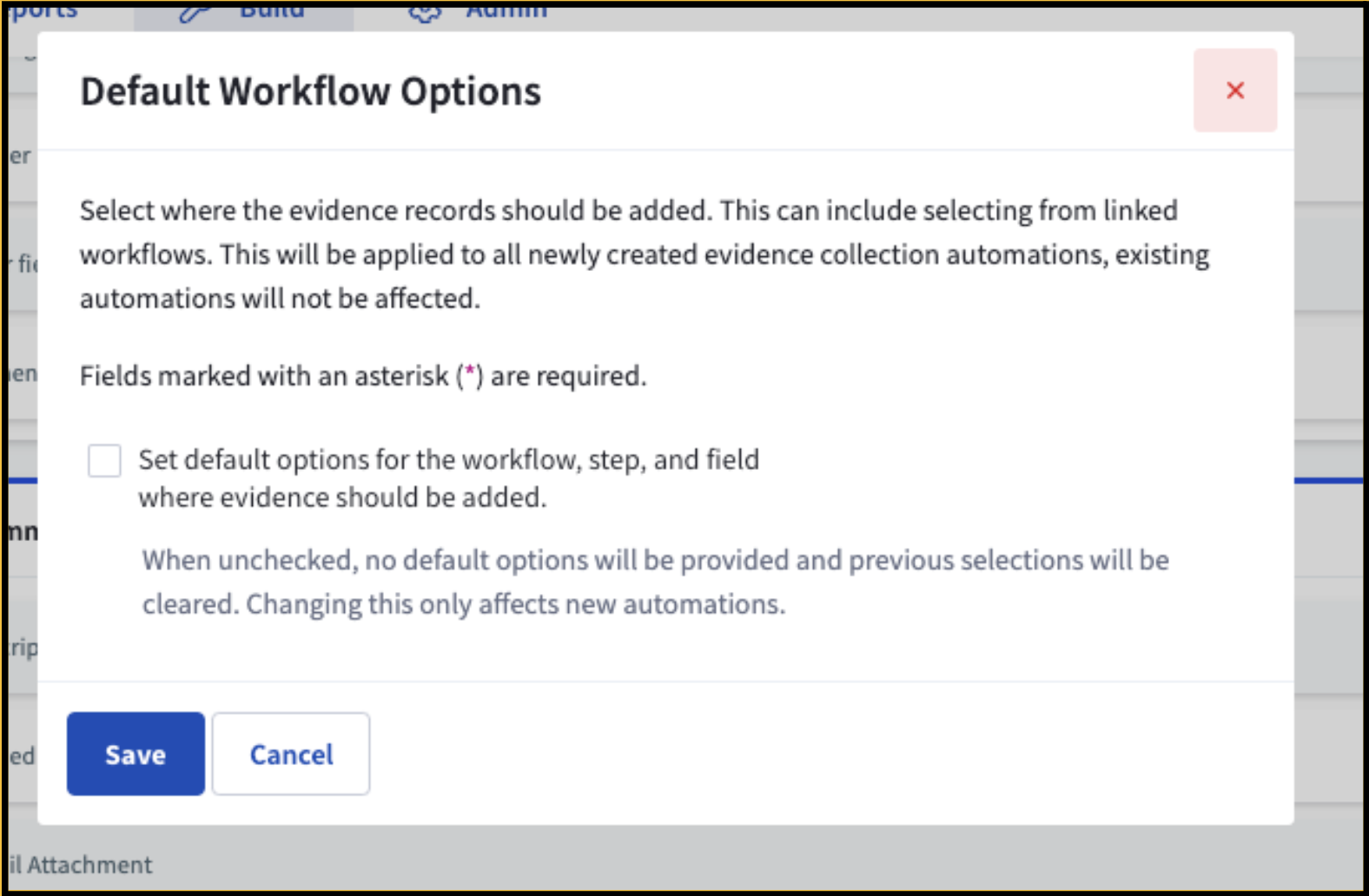 Checking the box shown above will allow you to add default selections for your end users (shown below), and unchecking that box will remove the default selections.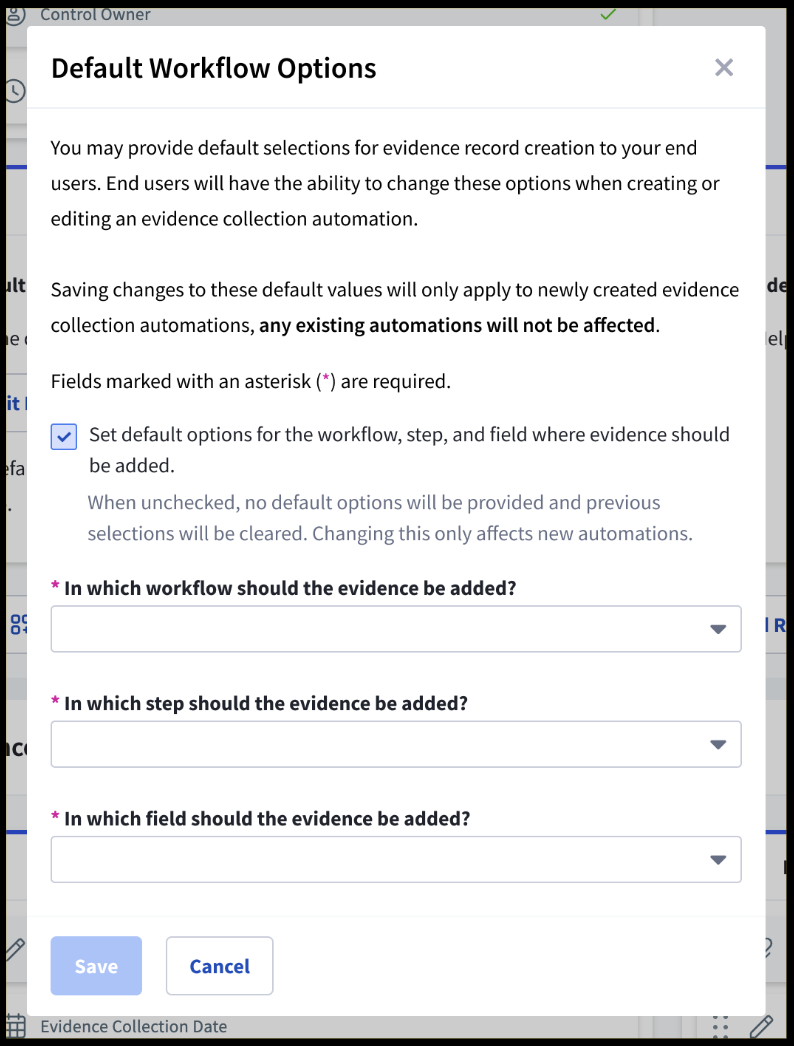 With these settings, you can choose if and how, Defaults will be presented to end users:
No Defaults

: Do not configure any defaults for your end users

With Defaults

: Configure defaults and allow your end users to change the workflow/step/field
When defaults are set up, the Subsection on the record builder will display a readout of the defaults.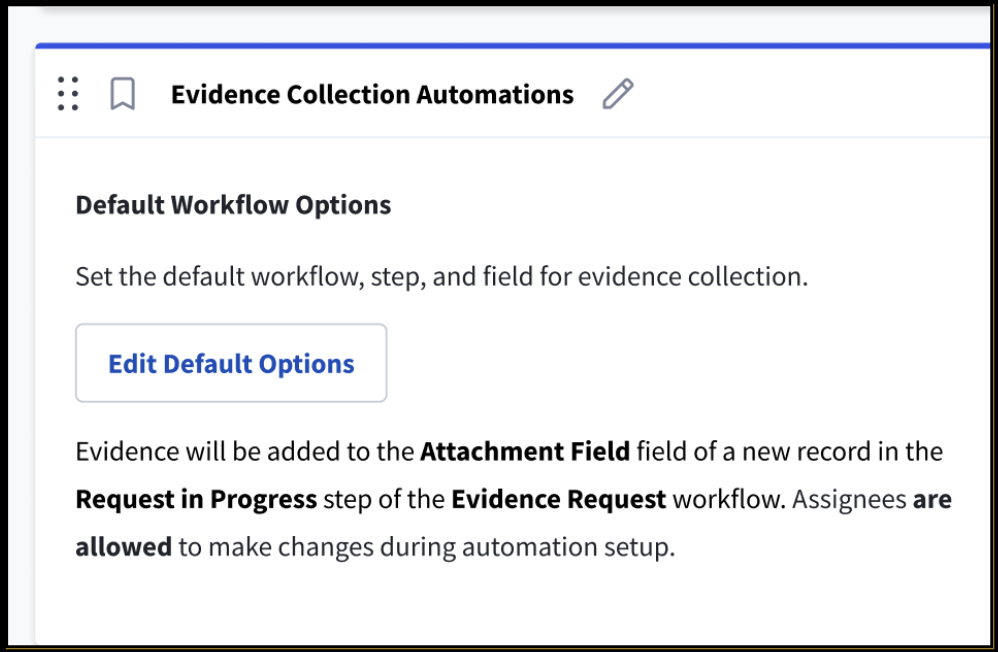 AEC for End Users
When users open the modal to create an automation, they will have the Workflow, Step, and Field pre-populated with the default selections: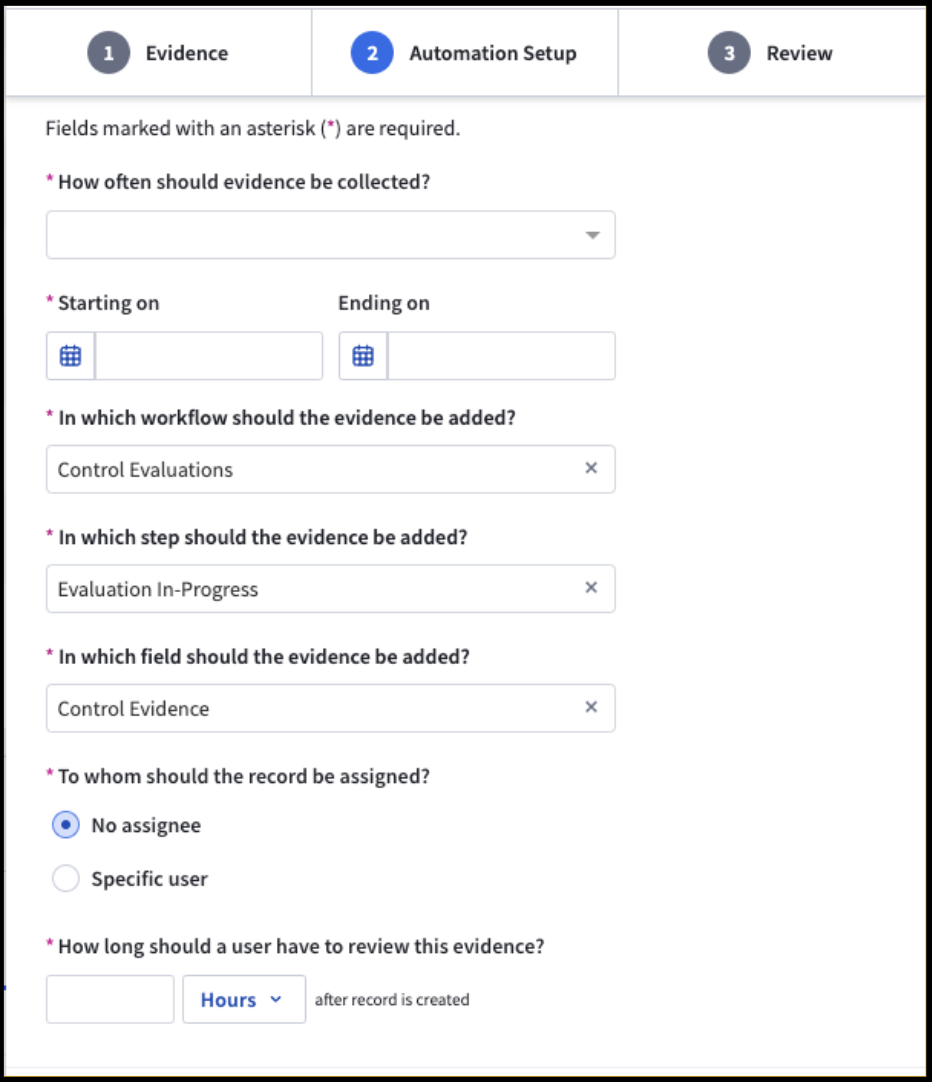 You can view a full demo video of AEC for end users here:
For more information about creating and configuring AEC Automations as an end user, please see this Help Center article next!
Additional Resources
Out-of-the-Box Evidence Collectors.
Integrate Risk Cloud across your entire enterprise environment with pre-built evidence collectors. From human resource information systems (HRIS) and ticketing systems to endpoint protection tools and vulnerability management platforms, automated evidence collection with Risk Cloud will save your team time and speed up audit cycles.
Integration With Leading Evidence Providers.
Go beyond automated evidence collection with attack surface management from CAASM vendors like Noetic and JupiterOne. CAASM solutions help you seamlessly integrate with dozens of security platforms to automate IT control evidence collection at scale quickly.
Risk Cloud's Open API.
Build your integrations with our Open API. The LogicGate Developer Portal has all the resources and documentation you need to automate evidence collection at your organization.