Contextual Notifications, Enhanced Roles and Permissions, Jobs History, and more!
Utilize Contextual Notifications for more Dynamic Job Messages
Add more context to the various messages you send out through Risk Cloud with Contextual Notifications! When crafting a notification message in Jobs you can now add field variables directly to the messages and better embed record information relevant to users receiving the message.
Field variables can be inserted into email subject lines, email messages, and Slack messages and they will automatically populate with the field values specific to the triggering record. You can select any custom or system field from the record that'll trigger the Job or from any of its directly linked record.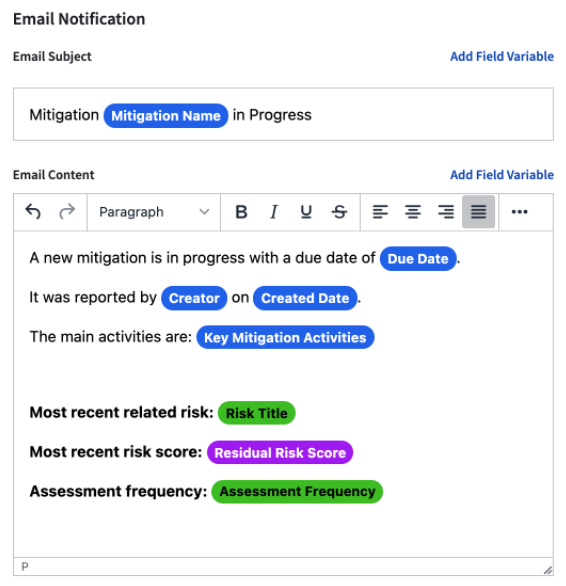 Learn more about using Contextual Notifications in Jobs here, and more about using them in Slack messages here. Also find answers to some Contextual Notifications FAQs here.
Leverage Enhanced Roles and End-User Permissions (Early Access Release)
To better align roles in your organization to permissions in Risk Cloud, and to overall improve security of your Risk Cloud environment, we will begin a phased roll out of an updated permissions model to all customers starting with this release. The enhanced roles options and greater flexibility of end-user permissions will give your organization improved control and increased security of your environment. Details about the upcoming changes can be found here.
See Assigned Work on your Home Screen To-Do List
Do you ever wonder what actions you need to take in Risk Cloud and don't know where to start? Now on the Home Screen you can go directly to the "My Work" drop down to see your individualized To-Do list to quickly and easily understand what items have been assigned to you in a given application. The To-Do list will contain all records assigned to you for the chosen application that are not in an end step.

For more information, please see the article on How to Create your Home Screen.
View Jobs History
Better understand the status of your jobs with the new Jobs History view. The view is available on the Build > Jobs page and will show a history of job executions in your Risk Cloud environment. There are options to sort by execution date, name, and success/failure as well as abilities to search for a specific job.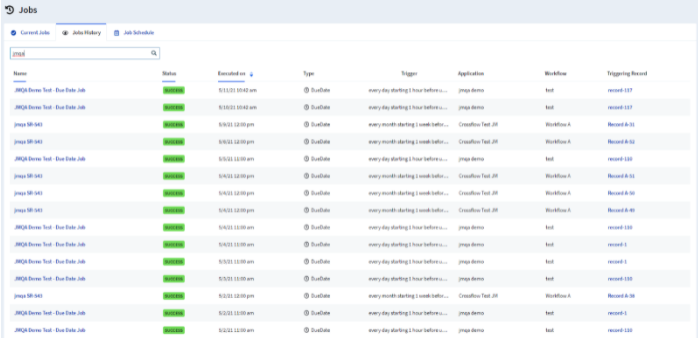 Separate Live and Draft Applications
Easily view which Applications in your environment are Live and Draft with the new drop down panels on the Build > Applications page. The new separation will give you a better understanding of which Applications in your environment are in production and which ones are being used for testing, sandboxes, or are inactive.
You can also leverage the draft section to try out new applications available to you in Risk Cloud Exchange before setting the Live.
For more information, please see the article on Managing Live and Draft Applications.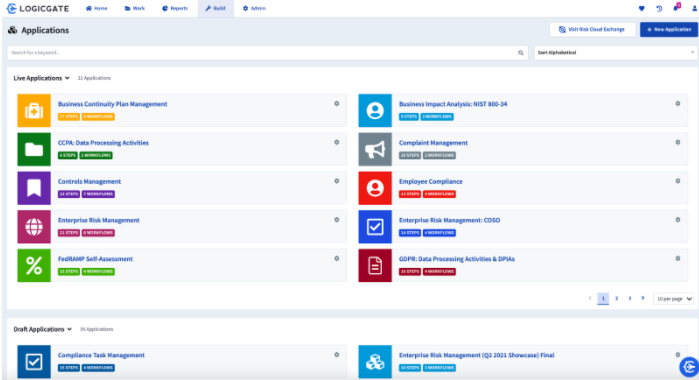 Learn more about managing Live and Draft applications here.
And More!
Ability to create Stacked Bar Charts

A new job operation is available that lets you use a job to move a record. Note: It can currently only be used with a due date trigger.

When looking at Recently Viewed an entity's workflow will now appear

Tables can be copied and pasted into rich text sections with the choice to maintain formatting or not
New in Risk Cloud Exchange (RCX)
Catalogs are now available in RCX!
Catalogs are a new content type for you to explore and they contain sets of predefined records, for example threats related to SCF controls, that can be imported directly into your Risk Cloud environment as data in a workflow. They leverage the same flexibility that Risk Cloud already gives you in other areas and enable you to map these predefined records to any relevant areas of your risk program.

Current Offerings: SCF Threats and SCF Risks
Recently Added Applications: