v. 2021.12.0
Automatic Document Generation
You can now automatically generate a document with zero clicks! Use Job Operations to generate a Risk Cloud Document when specific Triggers are met and automatically upload the document to an Attachment Field. Learn more about Risk Cloud Documents here, or reach out to your Customer Success Manager.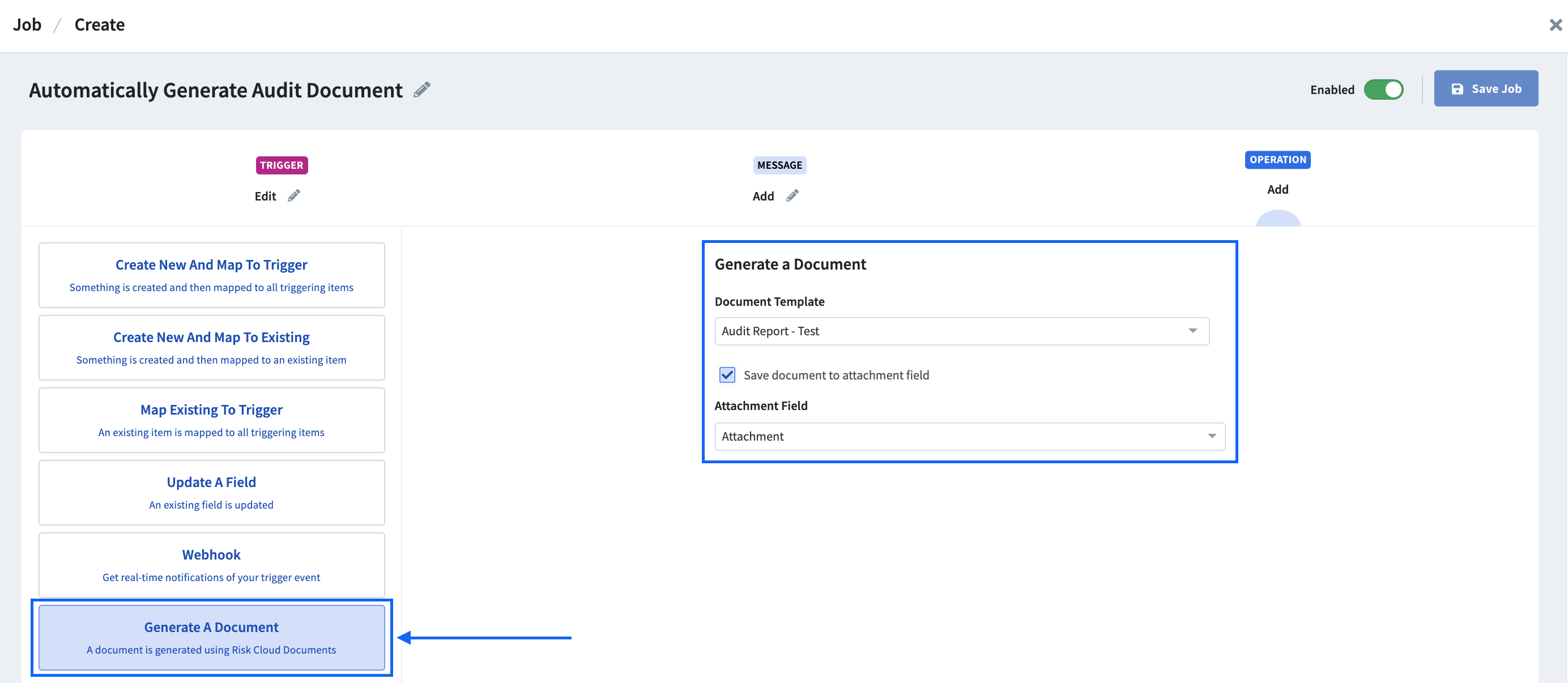 This Operation option will only appear if Risk Cloud Documents have been enabled in your environment.
New Status for Jobs
A new status has been introduced to the Jobs History table. "No Operations" will show up as the status for a Job for the following situations:
Jobs where the Trigger occurs, but the Condition on the Job is not met.
Due Date Jobs that are scheduled but are not on the right Step.

And More!
Bulk Create and Link Update: If there is only one Workflow that is set up for a Bulk Create and Link section, that Workflow and it's Record will be loaded by default for an end-user
Sibling Relationship Report Update: If the Current Workflow is selected in a Relationship Report, there will be a prompt to select another Workflow as the Parent. You will not be able to select the Current Workflow again as the Parent.
Relation Ship Report Paths: Now, only the Step Builder will specify how many paths there are between the Current Workflow and the Workflow selected in a Relationship Report
Empty Field Pills: Empty Field Pills used in Jobs will display as "N/A". Pills previously displayed as "[Field Name Blank]".
New in Risk Cloud Exchange (RCX)
Now Available and Recently Updated Content:
CCMC update to CCMC 2.0: If you are interested in updating your CCMC Repository reach out to Customer Success