Updates to the Application Canvas, Slack Integration, and Risk Cloud Exchange
Access Build Permissions, Copy, and More from within your Applications
Now access more settings directly from your Application Canvas. The expanded menu can be accessed easily via the settings cog, allowing you to more easily view and modify key settings for your Risk Cloud Applications.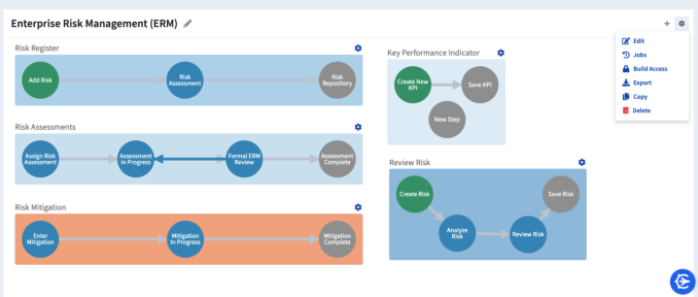 Send Slack Messages using User Fields
You now have the ability to target your Slack messages at users mentioned in your key records. When setting up a Slack message in your Job, now select any user field in the workflow that is triggering your Job or in any directly linked workflow — similar to how you would for email messages.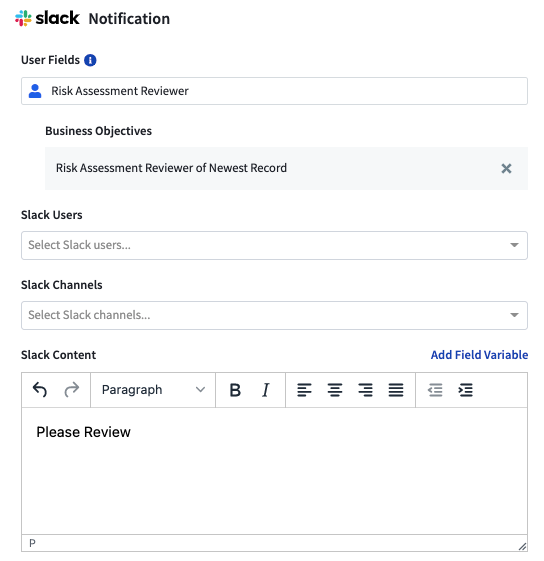 For the message to be properly delivered, your users' emails in your Slack workspace must match their emails in Risk Cloud.
Learn more on how to set up your Slack integration here.
Automatically Update Fields on Linked Records
Trigger updates to your key records when you or your end-users take an action on a linked record. For example, when an evaluation or assessment is complete, you can trigger a status field to be updated on your parent risk or vendor record.
For more information, please see the Job Operations for Advanced Operations article.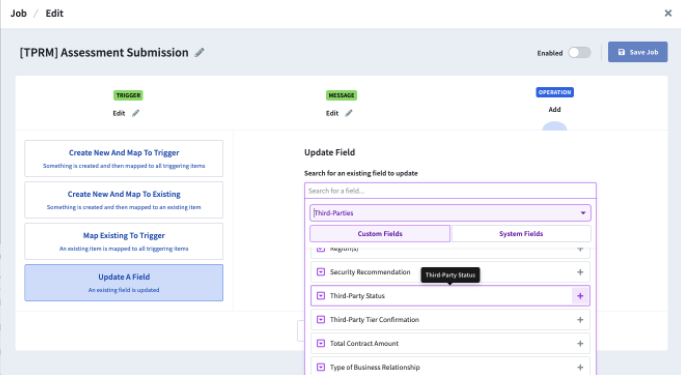 And More!
Reporting performance improvements

Applications on the Home screen are sorted alphabetically

An indicator on record pages showing when fields are automatically saved
New in Risk Cloud Exchange (RCX)
7 new integrations available to connect your Risk Cloud to your existing systems, including: Formstack, ServiceNow, DocuSign, and more.
Contact your Relationship Managers or use the Get Started Now buttons on RCX to trial our three newest pre-built Applications:
Secure Controls Framework (SCF) Version 2020.5 now available