Please refer to Access-Based Home Screen documentation found here.
Set a Dashboard on the Home Screen to offer a visual and dynamic experience to End Users
Your Application's Home Screen is the home base for end users that are doing work on the Risk Cloud platform. If in a different Module, you can return to the Home Screen by navigating to Home using the menu. If you have multiple Applications in the Risk Cloud environment, you navigate to the Home Screen of the appropriate Application with the "Select an Application" drop-down.

My Work
The Home Screen of every Application has a "My Work" section by default. End users will be able to see all the Records that are assigned to them in this section. "My Work" provides information on the Workflow, Current Step, and Due Date of the Record. Users can click on the Name to open and perform work on the Record.

If you have multiple Applications in your Risk Cloud environment, users can click View Across All Applications located at the top right of "My Work" to see a list of Records that have been assigned to them across all Applications in Risk Cloud.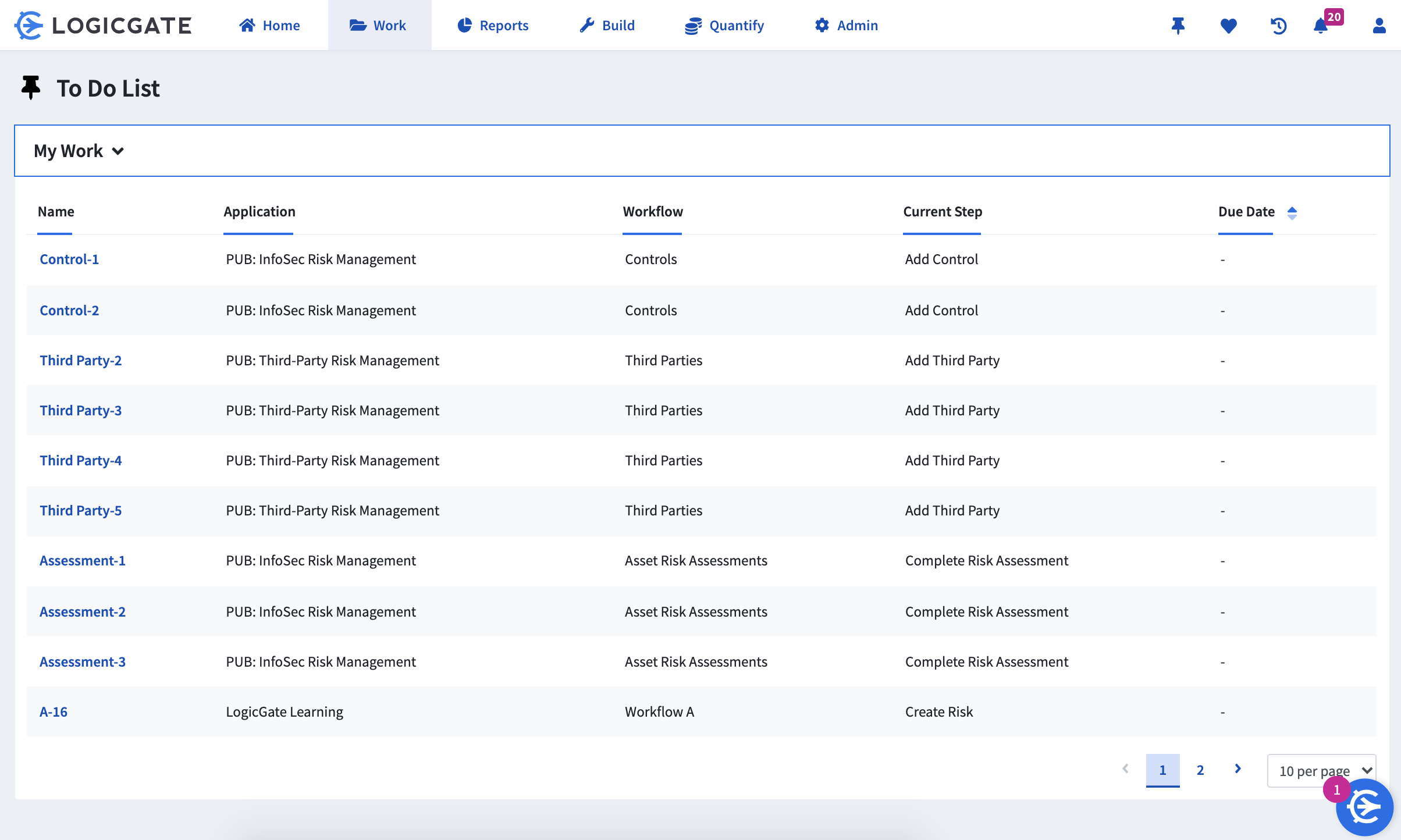 Customize your Home Screen with a Dashboard
In addition to the default "My Work" section, you can configure your Home Screen with a Dashboard. Note that the Home Screen you configure will be applied to all end users and will not be unique to you.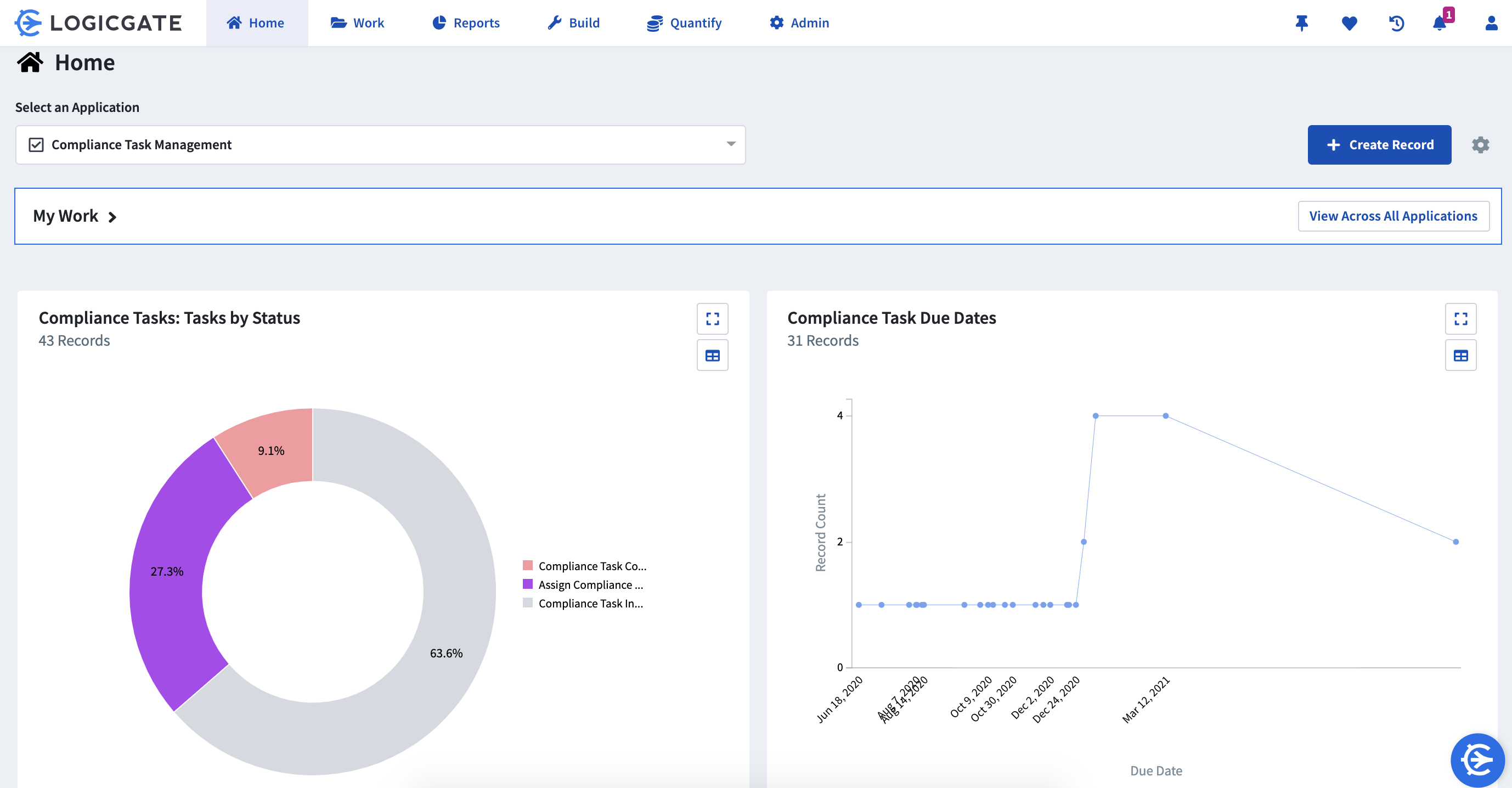 Step 1: Create or identify a Dashboard to set as Home
On your Home Screen dashboard, you can have up to ten Visual Reports and Table Reports to display data that is important to your end-users. Therefore, the first step is to create a Dashboard (or identify any existing Dashboards) that you want to add as your Application's Home Screen. Learn more about configuring Dashboards.
Some best practices include:
Create at least one Table Report for every Workflow that a user should see on Home Screen. If you want your users to be able to see all of the Risks in your Risk Register, and also all of the Assessments in the Risk Assessments Workflow, create two Table Reports.
Create a separate Table Report for every view you want your users to see. If you want your user to be able to quickly identify their Risks (Risks where the current user is the Risk Owner) but also quickly browse all Risks, create two Table Reports on the Risk Register Workflow but include a filter on one.
Name your Table Reports with a call to action. The Table Report will show up on the Home Screen with its name. We recommend naming your Table Reports with the action you'd like your users to take such as "Review your overdue risk assessments" or "Browse your vendors."

Build your Visual Reports from Table Reports so users can Drill-Down into Records

In order to be able to quickly drill down into specific Records when viewing Visual Reports on your Dashboard, we recommend building your Visual Reports on top of Table Reports. This will allow you to pull in all the pertinent fields and information you'd like your users to see when they take a closer look at the slices of your Visual Report.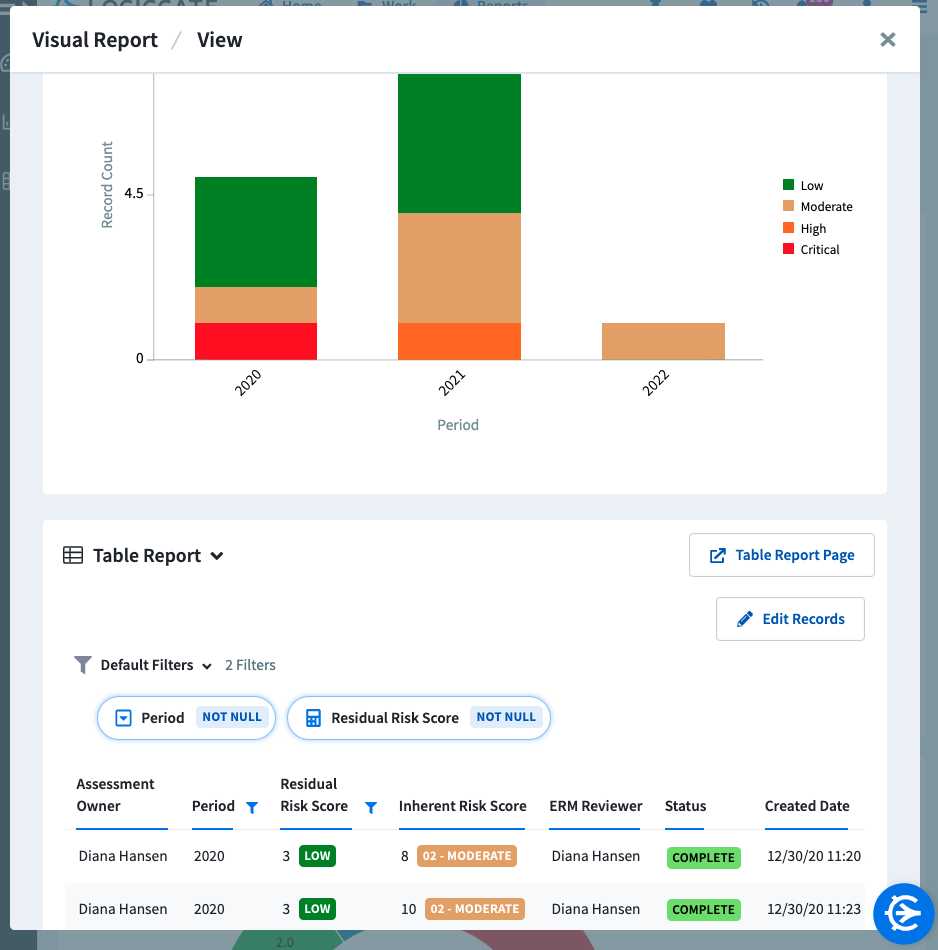 Step 2: Add Dashboards to Home Screen
There are several ways to add your Dashboard to Home:
You can click the Set as Home Screen button on the Edit Dashboard Screen or under the cog when viewing the Dashboard.

You can also click Configure Home from the Home Screen to replace the existing Home Screen content with a Dashboard. You can also go directly to the Application Canvas by clicking Configure Application.

In the modal that pops up, you can search for and select the appropriate Dashboard using the search bar.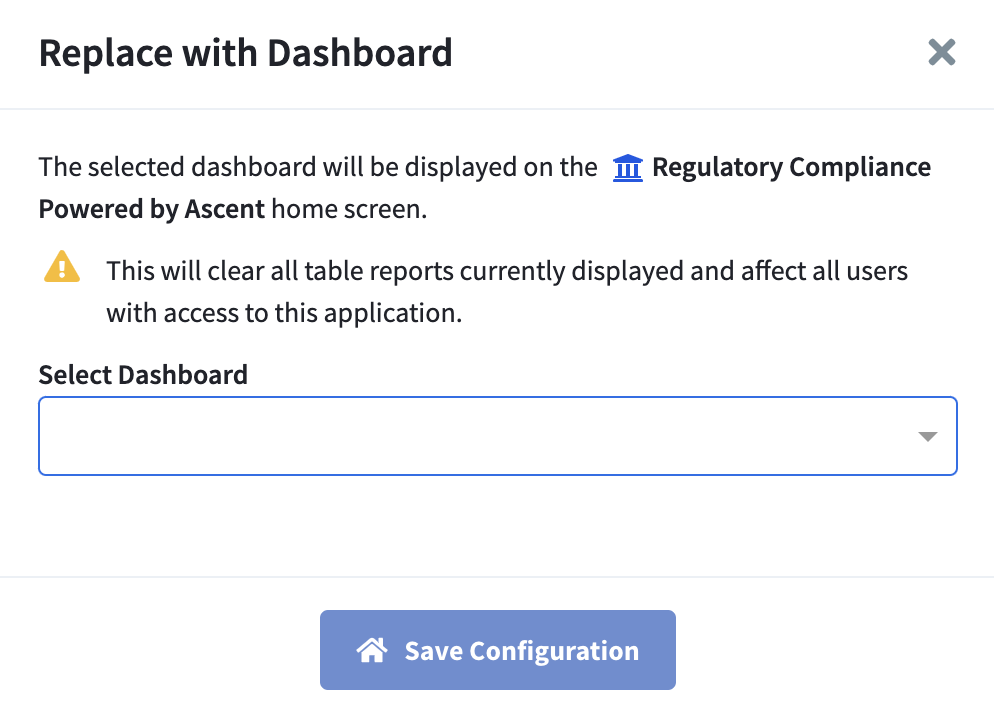 Step 3: Test your Home Screen
Test your end-to-end process with your new Home Screen. Check whether your end-users will be able to find all the relevant work they need and complete it from the Homes screen. If you need to make any changes or edits, you can simply click the "Configure Home" button and follow the "Edit Dashboard" path to add, remove, or rearrange reports on the Home Screen Dashboard.
Do you still have questions about the Home Screen? Check out our Frequently Asked Questions page for more information.