v.2023.9.1
Automated Evidence Collection
Ditch manual compliance workflows and eliminate redundant evidence requests with Risk Cloud®. Risk Cloud automates control evidence collection across more than 20 cybersecurity and privacy compliance frameworks so your team can focus on what matters most: increasing agility, building trust, and delivering actionable risk insights.
Optimize your risk and compliance program with automated evidence collection and elevate your team's reputation with:
- More time to analyze, share, and action audit findings
- A security-first approach to compliance and risk management
- The clarity and confidence to inform strategic, risk-based decisions
Take the first step to automating your compliance evidence collection! Linked is information on Enabling Automated Evidence Collection (AEC) and Creating and Configuring AEC Automations. If further questions come up please reach out to the LogicGate Support team or your designated LogicGate team member!
New in Developer Portal
Now Available:
Public Risk Cloud API v2 Postman Collection: Build and refine your custom integration with our user-friendly Risk Cloud API Postman Workspace! Set up and getting started information can be found here.
The OpenAPI Specification of v2023.9.0 has been released on GitHub
Visit the LogicGate Developer Portal to learn more about getting started!
v.2023.9.0
Features
LogicGate Resource Center Update: The icon to access the LogicGate Resource Center in Risk Cloud has been updated. Look for the question mark on the lower right side of the screen in Risk Cloud!

The LogicGate Resource Center is home to a variety of resources and information including: Live Chat with LogicGate Support, Feature and Event Announcements, LogicGate Learning, Risk Crowd, and more!
Update Default Setting for User Access to Steps: A change has been made to give users more control over the types of users who by default can be assigned to and access Record data. The new default setting for Step Access will be "App Users Only".

This change will be applied to newly created Steps and will not change the setting for previously created Steps (ie. Steps created prior to September 2023).
Records can still be assigned to External Users! When creating new Steps where Records will be assigned externally, navigate to [Step] Settings > User Access > Record Assign Settings and select either "App and External Users" or "External Users".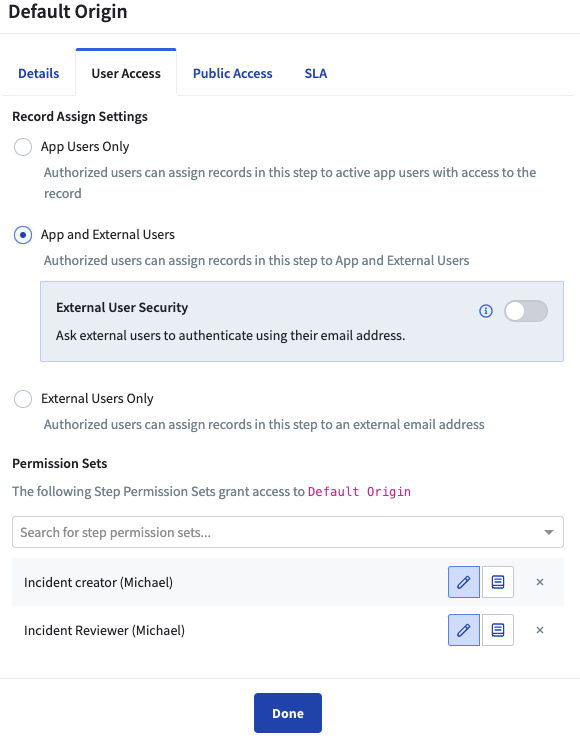 Record Importer Multi-Select Support: Risk Cloud's Record Importer now allows for the creation of Records with multiple values in multi-select and checkbox fields. Previously Records could only be created with a single value in these fields. In order to import multiple values into a single field, use a | character between the field values.
Access-Based Home Screen Improvement: A breadcrumb link has been added to the Home Screens configuration page to direct builders back to the Application Canvas.
Ability to Use Date Calculations and Days Until Due as Field Variables in Jobs Messages: Users can now configure Fixed Date Calculations and Days Until Due fields as field variables in messages sent by jobs in Risk Cloud.
Configure Asynchronous Table Report Export at the Table Report Level: Configuring at the Table Report level gives more control and allows the feature to be turned on for specific Table Reports rather than for the whole environment.
New in Risk Cloud Exchange
New and Updated Content:
Enterprise Risk Management Solution Success Kit: This Solution Success Kit includes updated standard support resources, solution enhancement resources, and 3 maturity-level Applications

!

Updated FedRAMP SSP Application: Aligned to NIST 800-53 Rev.5
You can visit Risk Cloud Exchange or connect with your LogicGate team member for more information and to get started.