v.2023.10.1-2
Features
For Risk Cloud Quantify Customers: Aggregate FAIR Analysis and UXRI

Aggregate FAIR Analysis: With this release you will be able to aggregate the various outputs of your FAIR Analyses so that you can more easily gauge your loss exposure across various entities, for example: across business units, assets, threats, or regions. This initial launch will allow users to select the analyses they would like to include and they will then be able to generate a loss exceedance curve and data breakdown for each aggregation. More information on creating insights and the new aggregate analysis feature can be found here.
UXRI Record Experience Enhancements: Quantify applications can now leverage the UXRI Record Experience Enhancements

Report by Record on Visual Reports: You are now able to use the Name Field of a Workflow as the X-axis on a Bar Chart Visual Report. The Name Field will display each Record's value for the Primary Field of the given workflow. More information on creating visual reports and leveraging this new feature can be found here.
v.2023.10.0
User Experience Re-Imagined: Record Experience
User Experience Reimagined (UXRI) is LogicGate's initiative to optimize how Risk Cloud users interact with and complete their work. The UXRI initiative begins with a Reimagined Record Experience, enabling Risk Cloud users to streamline the Sections and Subsections within a Workflow Step into a single-column user interface. More information on what is included in this new experience can be found here.
If you are interested in being an Early Adopter of UXRI, please complete this survey, and our Customer Success Team will reach out on more information on getting it enabled.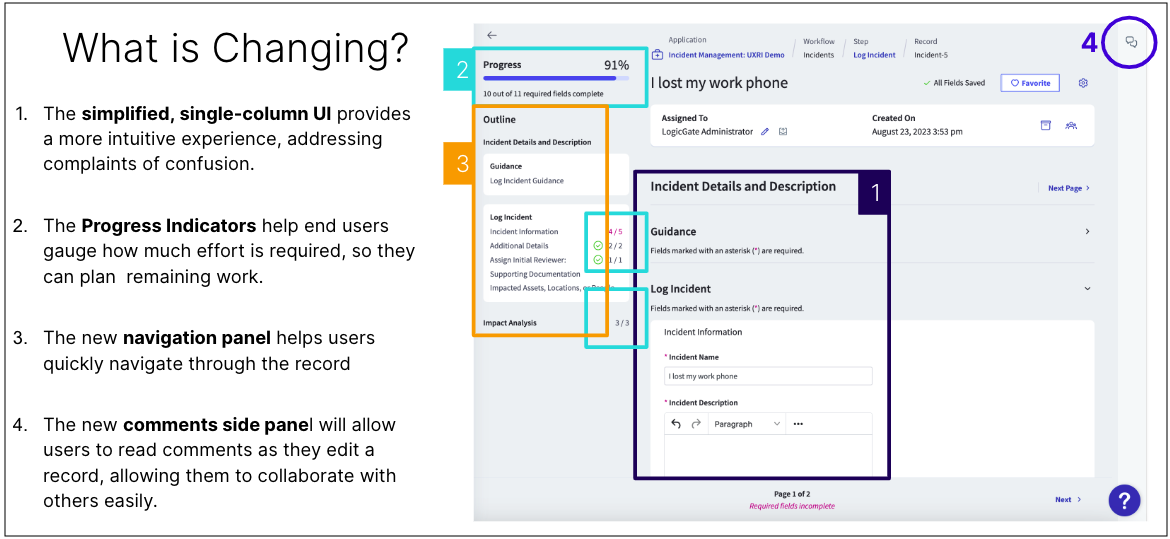 Additional Features
Automatic Conversion to Access-Based Home Screen (ABHS): Applications which are still using Table Report-based Home Screens will have their Table Reports automatically added to a dashboard and converted to an Access-Based Home Screen in both Live and Draft Applications. Automatically converted Home Screens will look exactly the same as existing home screens to end users. To help users easily identify dashboards and home screens which were created as part of this process, standard naming conventions will be used. More information on ABHS can be found here.
Access-Based Home Screen Improvements - Dashboard Page: To make it easier for users to identify for which Application(s) a Dashboard is being used as a Home Screen, an Application Home Screens column will be added to the Dashboard page. Additionally, when setting a Dashboard as a Home Screen, the Application dropdown menu will list Applications for which the Dashboard is already being used as a Home Screen in a disabled state.
Filters to Identify SCIM Users: This feature gives Risk Cloud administrators greater visibility into their users and allows them to segment out users based on the system that provisioned the user. This extends functionality which was recently introduced to the Roles page with our SCIM Group Sync feature, more information on this can be found here.
New in Risk Cloud Exchange
New and Updated Content:
Updated Secure Controls Framework (SCF): SCF version 2023.3 is now available.
You can visit Risk Cloud Exchange or connect with your LogicGate team member for more information and to get started.